Project Name: China stand builder for SNEC
SNEC booth construction
china booth stand builder
China exhibition contractor
china exhibition booth construction
Project description: SNEC PV Power Expo Shanghai was held in May.YiMU Exhibition as the China booth stand builder for SNEC providing exhibition booth stand design and stand booth construction work for exhbitors,YiMu Exhibition is a professional china exhibition contractor since 2003,having many years on the china booth stand design and china exhibition booth construction.
Project details
YiMU Exhibition is the China booth construction for SNEC PV Power Expo Shanghai.
Shanghai New International Expo.Center (SNIEC)
Single-story stand
Main backwall is the roll painting,Reception desk with Spray Painted,3D Acrylic Logo,Vinyl sticker,etc.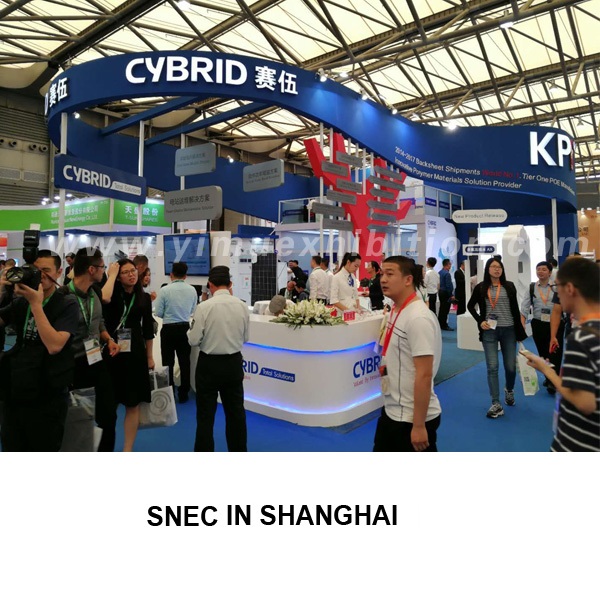 SNEC Expo is one of the biggest events for solar products in Asia show,it is an international exhibition and conference on photovoltaic industry,YiMu Exhibition is the China booth stand design and booth stand construction company for the SNEC PV Power Expo Shanghai show,offering one -stop exhibition booth design and stand construction service for CYBRID,PUXING ENERGY,GermanSolar AND WUXING.
As one of the leading china exhibition stand design and stand booth construction companies,We cater a wide range of exhibition/event services to meet client's individual requirements through the custom booth stand design,quality control,custom booth construction and conference/event management.
See you next time on the SNEC PV Power Expo Shanghai.

---
http://www.yimuexhibition.com
YiMU Exhibition is a professional exhibition stand deisgn&China exhibition contractor company and also is one of the leading exhibition companies in China,we offer the exhibition construction service as the reliable exhibition booth contractor in shanghai exhibition stands,we are the exhibition contractor manufacturers and have more than 16 years on the exhibition stand design,built many stands for oversea exhibitors and exhibition design companies,we have a long business with them as their local exhibition stand builder partner in Shanghai,Beijing,Guangzhou and other cities of China.Besides,we also is a hongkong stand builder offer the design in hongkong exhibition stands,we as the hongkong exhibition contractors specializing in hongkong stand design and booth construction for many country pavilions every year,like the Prowine Asia show in hongkong exhibition,Asia Fruit logistics hongkong show and hongkong Cosmoprof Asia.