Project Name: Double deck booth design in CIIE Expo
China International Import Expo
double deck booth design
China display stand builder
food trade shows
Project description: Double deck booth design in China International Import Expo(CIIE 2020),if you need the China Display stand builder,food trade shows design,pls contact YiMu Exhibition booth design.
Project details
The third China International Import Expo (CIIE) will be held at the Shanghai National Convention and Exhibition Center. As the appointed booth construction service provider of the 3rd China International Import Expo, Shanghai YiMu Exhibition offers display stand design and booth construction service for many exhibitors on this trade fair, such as food exhibition area, service trade exhibition area, logistics exhibition area, cosmetics exhibition area, luxury product exhibition area, industrial automation exhibition area, and automobile and Car accessories.We YiMu Exhibition stand builder is familiar with all exhibition booth construction rules and strict environmental protection requirements of the Import Expo. We have extensive experience of the trade show booth design, exhibition stand construction and can solve the on-site emergency incidents quickly, which has won the trust of many exhibitors.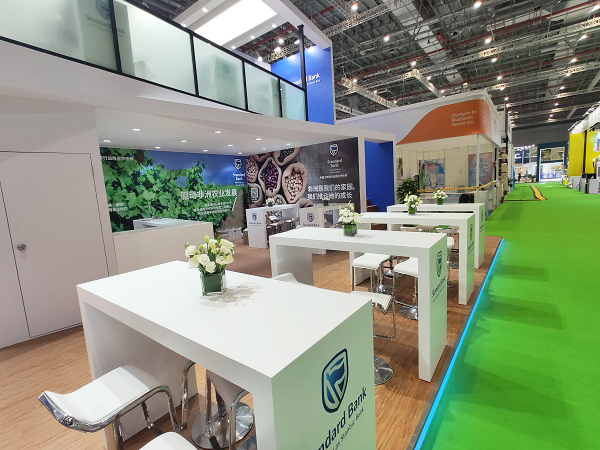 In the food exhibition area, Shanghai YiMu Exhibition Services Co., Ltd. designed and constructed a double-deck (two-story ) booth for South African Standard Bank. The entire booth design and stand construction strictly adhere to the safety and green requirements of the China International Import Expo (CIIE) and helped many African companies successfully showcase African agricultural products to Chinese audiences.
If you need the double deck(two-story) booth design,China display stand builder service and food trade shows design,pls contact YiMu Exhibition booth design.www.yimuexhibition.com