Project Name: PLF Asia exhibition stand builders
exhibition stands
exhibition booth design
exhibition stand builders
trade show booth ideas
Project description: At PLF Asia trade shows,exhibition booth design,trade show booth ideas and booth construction are the most crucial component of your exhibition stands, and you certainly want to look for reliable exhibition stand builders in China,Shenzhen,hong kong and macao.
Project details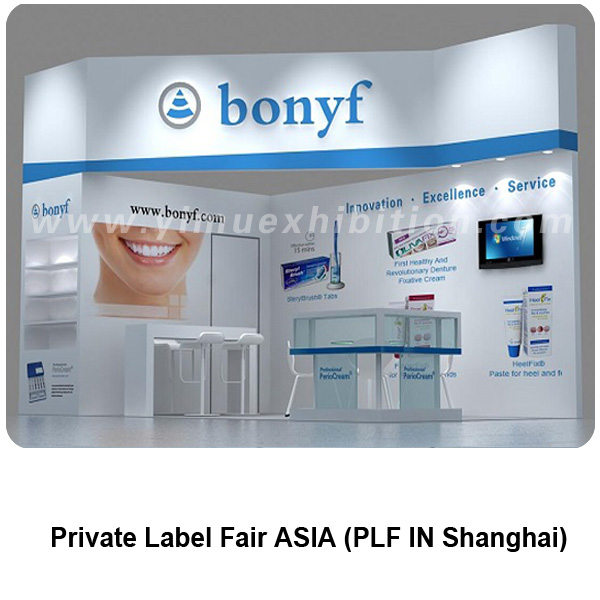 Looking for Trade Show booth design and exhibition stand builders?
A professional trade show booth design has a sustainable impact on a trade fair appearance's success. Especially at trade fairs an appealing exhibition booth design,trade show booth ideas and quality stand construction works.YiMu Exhibition provides exhibition display exhibits services and design your exhibition stands today! under your budget! 24H deliver it to you quickly. All of our trade show booths design and booth construction are custom-built to your specifications in order to bring your imagination to life.

About the PLF Asia Trade Fair in Shanghai and Shenzhen:
Private Label Fair ASIA ( PLF Asia) is one of the three largest trade shows for the Private Label sector along with the trade fairs held in Chicago and Amsterdam,USA. Now the PLF Asia trade show has spread its influence and reputation beyond the Great Wall and across the whole Asia Pacific region becoming the Leading trade show for domestic key industry players of the retail sector looking to develop a strong Private Label Brand.
We are the Leading exhibition stand design and exhibition booth contractor in China, if you need the booth design and exhibition stand fabricator services,please us for more details info@yimuexhibition.com